Tamara Cherep is the epitome of true grit.
She was forced to flee Ukraine on March 3, when her hometown of Izium came under attack by the Russian Federation. It was virtually wiped-out last month.
Since leaving Ukraine, she has run the gamut of refugee reception centers in Poland – the good, the bad, and the ugly. "I could make reviews of all of the camps," she says. Somehow she has not lost her sense of humor. "I'm like a cockroach," she says, grinning. "I can survive anything."
Her last name, Cherep, means "skull".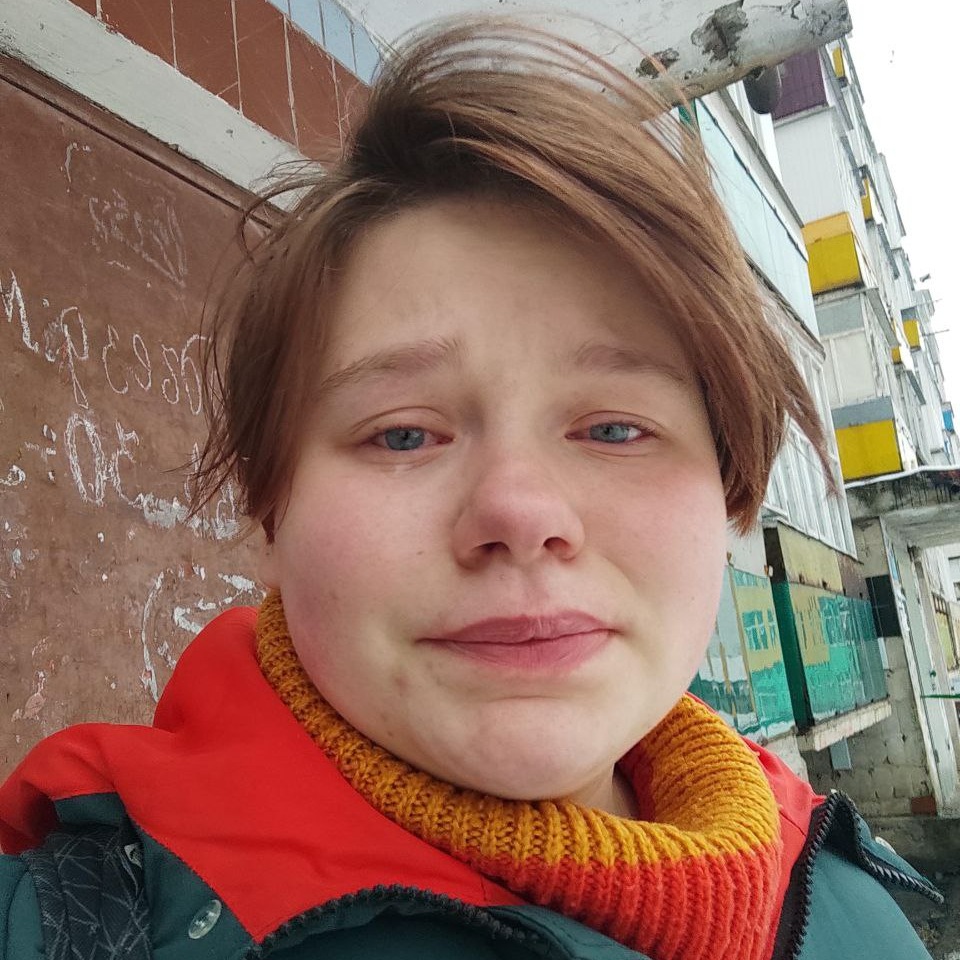 She describes March 3 of 2022 as, "the first really hard night in Izium. The city center was completely destroyed." Cherep fled her home village of Izium, a city on the Donets River in Kharkiv Oblast in Eastern Ukraine, shortly after this. The city has been under full Russian military occupation since April 2022.
On March 11, Cherep arrived in a village one hour from Krakow in Poland. The fear and anxiety that comes with fleeing a war zone does not disappear overnight, and Cherep said it was hard to adapt to the sounds of the city. "The transport trucks, and the planes – when you hear this sound you think 'ok there will be bomb in 10 seconds,'" she says. "Your first reaction is to lie down on the ground and wait." But eventually Cherep started to feel more comfortable. "I'm not scared when there are sounds now," she says.
Although fluent in Russian, Cherep refuses to speak another lick of it. The move to Poland was the first time she has been able to speak Ukrainian freely. "A lot of people from Ukraine started to speak Ukrainian after the war started because it's our language," she says. "It's a protest."
Cherep turned 19 in June, but she couldn't celebrate because she was recovering from being ill. She developed angina in a settlement center in Warsaw, and for a while she could not even speak. As an interpreter, her most valuable skill is her ability to speak Ukrainian, so losing her voice just after regaining was a literal and metaphorical set back on the road to healing from this war.
Cherep had stayed for a month at GlobalEXPO Centrum, referred to as "Modlińska", where she became ill. Modlińska is a clean building, regular meals are provided, and there is an area for donated clothing and other necessary items to ensure people have what they need to survive. The space is quite massive, as the building was previously used as a conference center with a main hall for concerts, trade fairs and meetings. The sleeping areas, however, are tight quarters: a sea of cloth fold-up beds, all right next to one another, with no separation between families. When changing clothes, people must use the bathrooms for privacy. Cats, dogs, parrots and rodents intermingle with people, hopping from bed to bed. The sounds of coughing and bare feet slapping concrete echo through the space.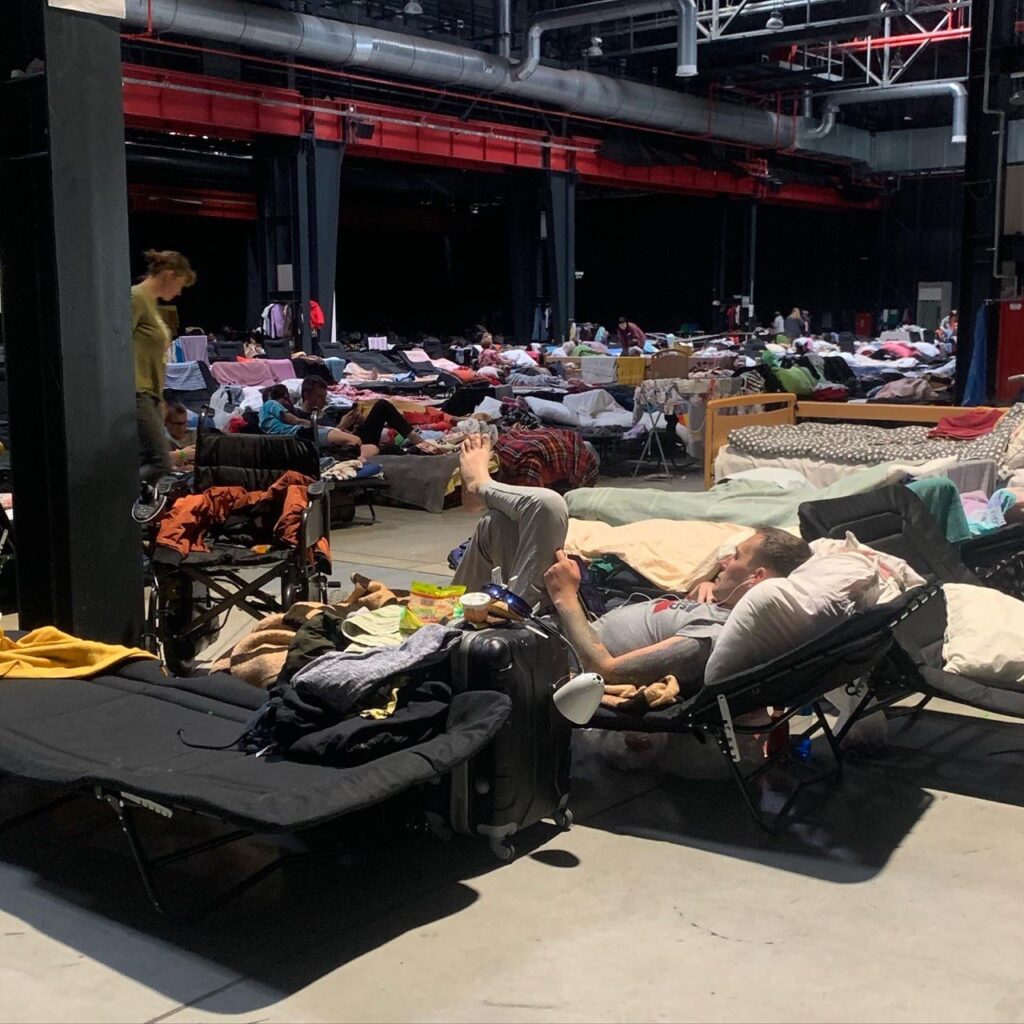 Before moving to Modlińska, Cherep stayed in another settlement center in Warsaw – PTAK Humanitarian Aid Center, at the Warsaw Expo Fair and Conference Center. "Compared to this place [Modlińska], PTAK is shit," Cherep explains. "They don't have washing machines. They don't have normal food. Most people there are eating dried soups and all this not so good stuff."
Cherep thought she would be at PTAK for 1-2 weeks while her family found her flat, but because of the overcrowding of fleeing Ukrainians in the city, she ended up having to stay at PTAK for over a month. Here she contracted a stomach flu that doctors say was due to the poor quality of food. "I had such bad stomach aches I couldn't sleep with it," she says. "I had to ask doctors to help me because I couldn't solve it myself."
Cherep said PTAK Expo is mostly run by Ukrainians who had also fled. "Staff in the PTAK Expo – they are rude; Ukrainians to Ukrainians. It's a mess," she says. "I think that all the people who came after war need psychologists, but they think that they are ok. All of them say, 'Ok, I am alright, I can solve it myself, no problem.'" Taking pride in being able to solve one's own problems is not unique to one culture, but accepting help or favors is and has always been a point of shame for many Ukrainians. Many prefer to be independent, and giving is often more comfortable than receiving.
Cherep explains what the interactions between residents and staff were like. "They are screaming on each other. It's hard to solve your mental problems after war, and they don't think that they need psychologists, that they need to have a rest. I was like this for the first month, and then there was a moment when I had problems. I was thinking suicide is the best way sometimes. And [instead] I just tried a psychologist. And I am still alive." Cherep is still talking with a psychologist once or twice per week.
Eventually Cherep ended up at Warsaw Central Station, a high-traffic touchpoint for displaced Ukrainians, and the place where Pathfinders for Ukraine has set up shop to help Ukrainians migrate to Canada.
After undergoing the visa process for the UK sponsorship track, Cherep accepted a job as a Ukrainian interpreter with Ukraine2UK – an organization that neighbors us at the desk. By osmosis, Cherep eventually started volunteering with Pathfinders for Ukraine. Our group is like a family.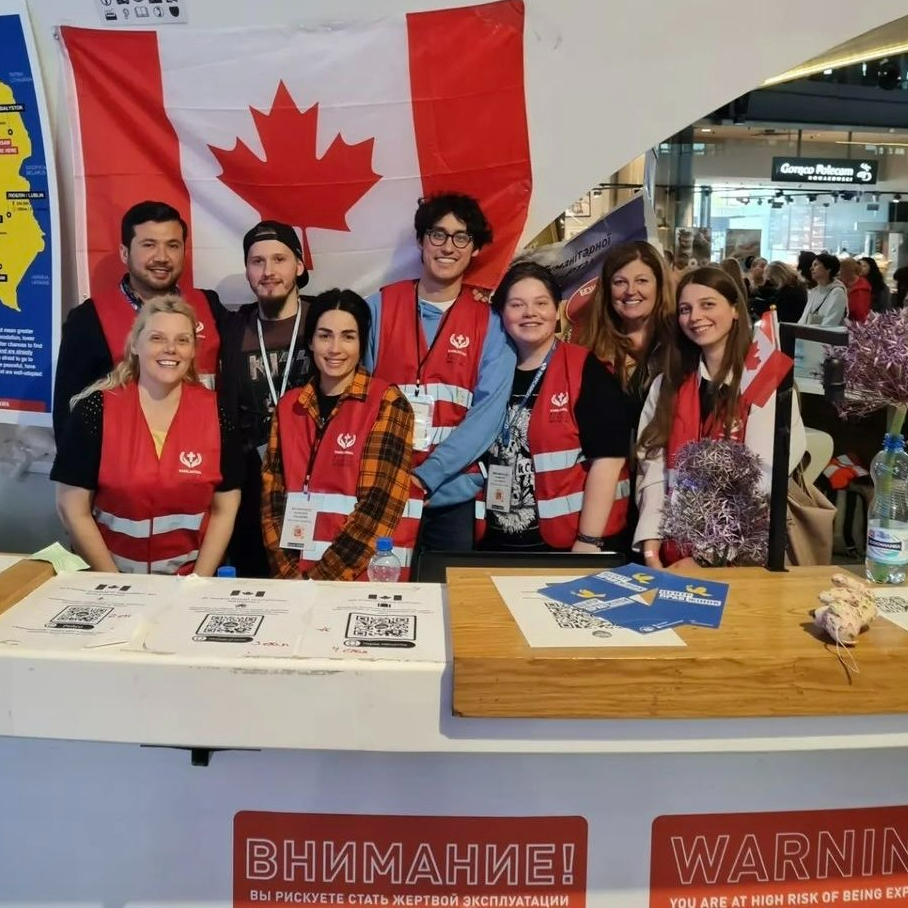 Unfortunately, Cherep's initial visa application for the UK was denied when her sponsor pulled out at the last minute. When this happens in the UK program, Ukrainians have to start again from scratch, commanding a repeat of the same wait times for approval. This was of course a major disappointment.
Many Ukrainians have been unable to sustain themselves in Poland through lengthy visa approval processes. They are getting discouraged by the radio silence that lasts upwards of 8 weeks, and some of them are even returning to Ukraine, which is still an active war zone despite the waning attention of western media.
On June 8th, Cherep came across some photos of her home town of Izium in a Telegram group. It was completely destroyed.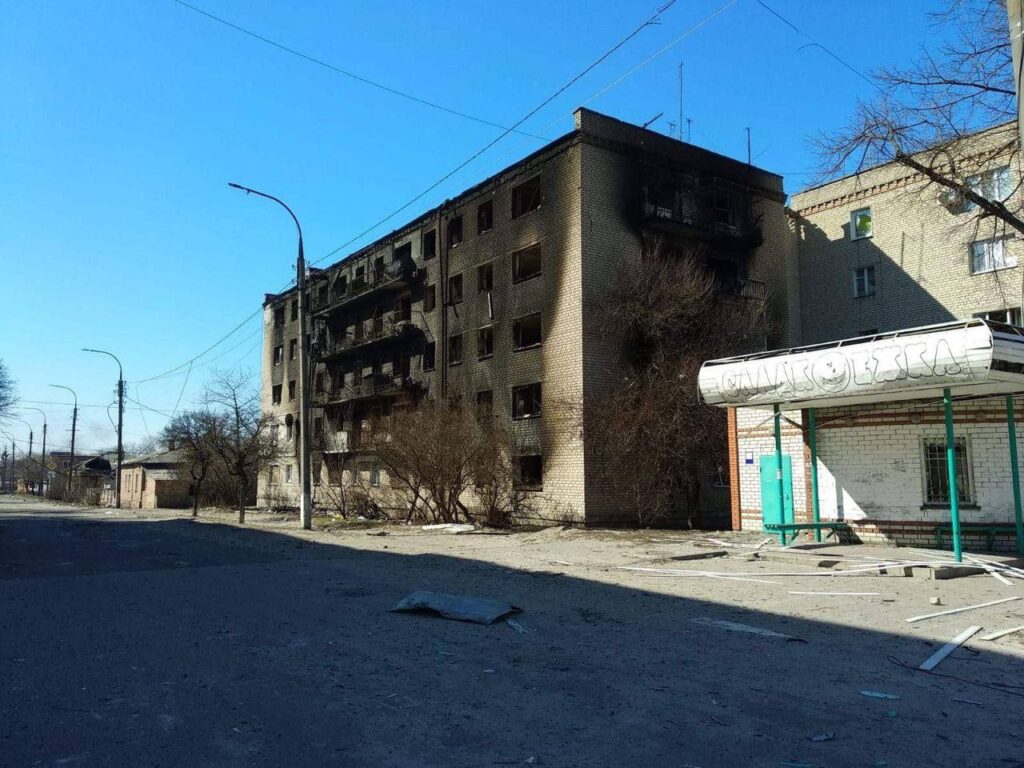 "The day I saw a photo from my destroyed home, I was really upset about it," Cherep says. Having the hope for your future snuffed out and seeing your home wiped off the face of the earth in the same month has to be one of the most uncomfortable feelings of freefalling imaginable.
Luckily, later in June, Cherep was able to find another sponsor – a generous family from Stokesley in North Yorkshire. Her visa was approved June 14th, and she boarded a flight to her new home shortly thereafter.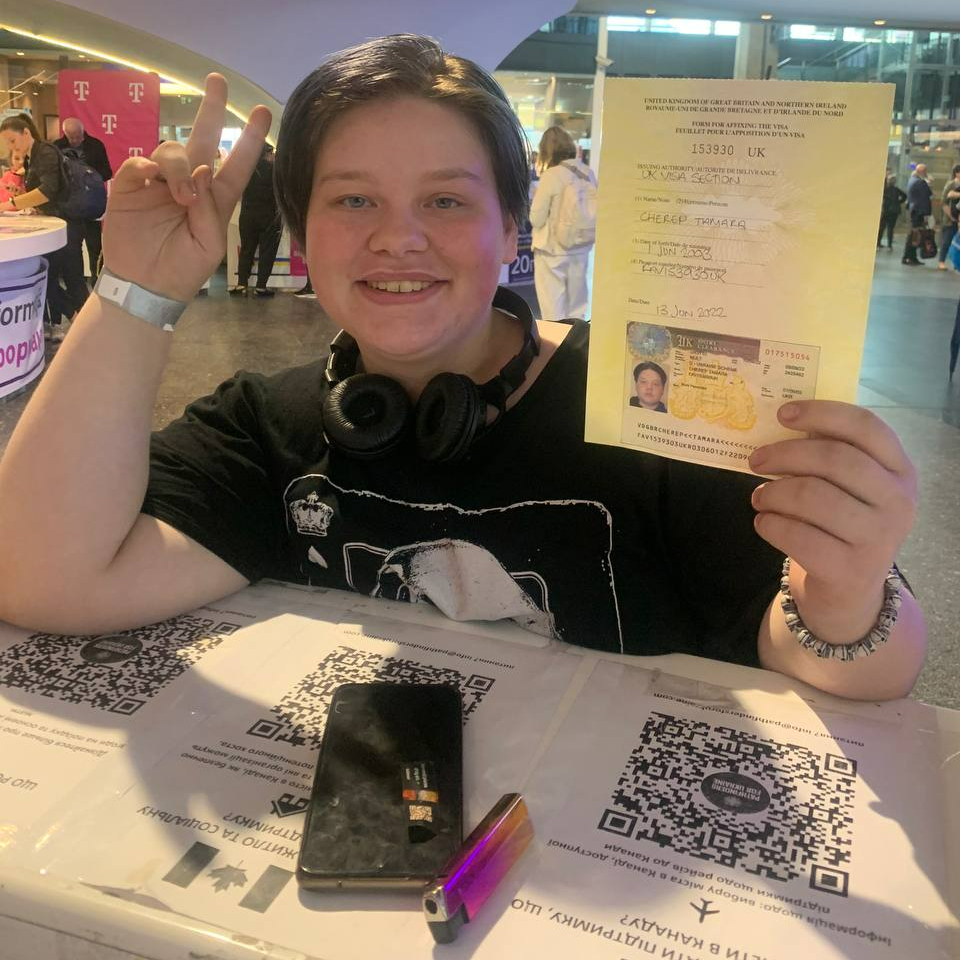 Before the war, Cherep was studying to be a nurse. She managed to finish her program while in Poland. She is now waiting for her diploma to be sent from Kharkiv. She will then have a consultation with a job center in the UK to transfer her credentials to be able to pursue a career in health care.
Tamara Cherep plans to visit Ukraine in 5 years. "When I visit my town, I want to see all the stuff that was my childhood – things I saw all my life, every day. I want to see all my friends happy at home. I want to visit my college to see new students there. I was to see Ukrainians who understand that we are Ukrainian. I want to see Ukrainians united, helping to rebuild Ukraine."