Profile
Total Population: ~1,611,000
% of Ukrainian Population: 6.4% of Ukrainians out of total population (fifth highest concentration in Canada).
Climate: Calgary is one of Canada's sunniest cities, with sunny weather even in winter. Most of its little rainfall comes in summer. Calgary endures very cold winters. Calgary also has a windy climate which it owes to its prairie location. At times the wind in Calgary takes the form of a "Chinook" — a hot, dry, Foehn type wind that blasts down from the Rockies. In winter, the Chinook can raise the temperature in Calgary by 30°C in a few hours. Even in summer, Calgary's nights are rather cool. Calgary's weather is often changeable, and it is notoriously difficult to predict.
Language: Predominantly English.
Known For: Calgary is the largest city in Alberta, and the fifth largest metropolitan area in Canada. It is also one of the fastest-growing cities, and home to a diverse multicultural array of residents. Although the majority of Calgarians identify with European heritage, Calgary has a huge multicultural community with different backgrounds and cultures which makes it a very vibrant place to live. The economy of the city is centered around the petroleum industry, financial institutions and high-technology industries.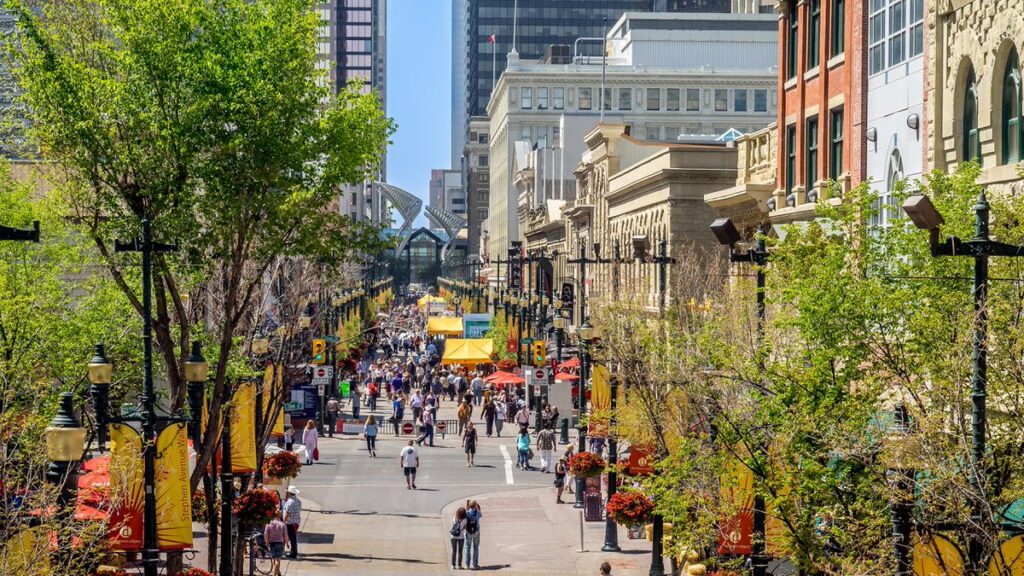 Pros: Calgary is one of the cleanest cities in the world, according to Forbes Magazine. Calgary is also one of the most affordable of major Canadian housing markets in the country. It has a comparatively lower cost of living, with Vancouver and Toronto both 8% and 13% more expensive, respectively. Living in Calgary you will only have to pay 5% sales tax (vs. Ontario's 15%). The city's state-of-the-art healthcare facilities also means you will find reliable and well-qualified family doctors here. If you love sports and the outdoors then Calgary is definitely the right fit for you. The city is located in close proximity to the Rocky Mountains and offers ample opportunities for outdoor activities and entertainment. The city also has over 100 parks and green spaces, which is ideal for trekking, running, cycling, and other outdoor activities.
Cons: The recent recession in the country has severely impacted the employment rate of the city. The city is heavily dependent on oil and gas in terms of the economy, and when these sectors take a hit, the entire city ends up suffering. Due to the overpopulation in the city, the number of schools in proportion to the children has decreased. It is possible that your children might not be able to go to school in the neighborhood that you live in. Although the winter days are not as bad as most areas in Canada, they can still get below freezing. Even in the hottest summer months, the weather is not terribly warm. Downtown Calgary is not the most lively area in Calgary, as the majority of Downtown is composed of office buildings, a couple of shopping centers, and other commercial areas.
Cost of Living: Family of four estimated monthly costs are $4,676.84 without rent. A single person estimated monthly costs are $1,312.17 without rent. Calgary is 1.22% less expensive than Toronto (without rent). Rent in Calgary is, on average, 30.56% lower than in Toronto. More details.
Apartment vacancy rate: 1% (2022)
Average cost of rent (1 bdrm): $1,372.53 (2022)
Average cost of rent (3 bdrm): $2,629.75 (2022)
Public Transportation: Traffic is a significant issue in Calgary and can get quite bad in rush hours. This means you can get stuck in traffic jams for long periods of time. The public transport facilities within the city are not very developed. Although the city has the Calgary Transit metro system, it is underdeveloped when compared with other metropolitan cities.
Arts & Culture: Calgary has an eclectic arts scene, which includes public galleries, working studios, artist-run centers, collectives and artisan shops. The Calgary Stampede is a ten-day annual event that takes place in July. It is the biggest outdoor rodeo and chuckwagon racing festival on earth, with over one million people attending each year. Calgary has a vibrant wine and beer scene, as well as an array of ethnic eateries.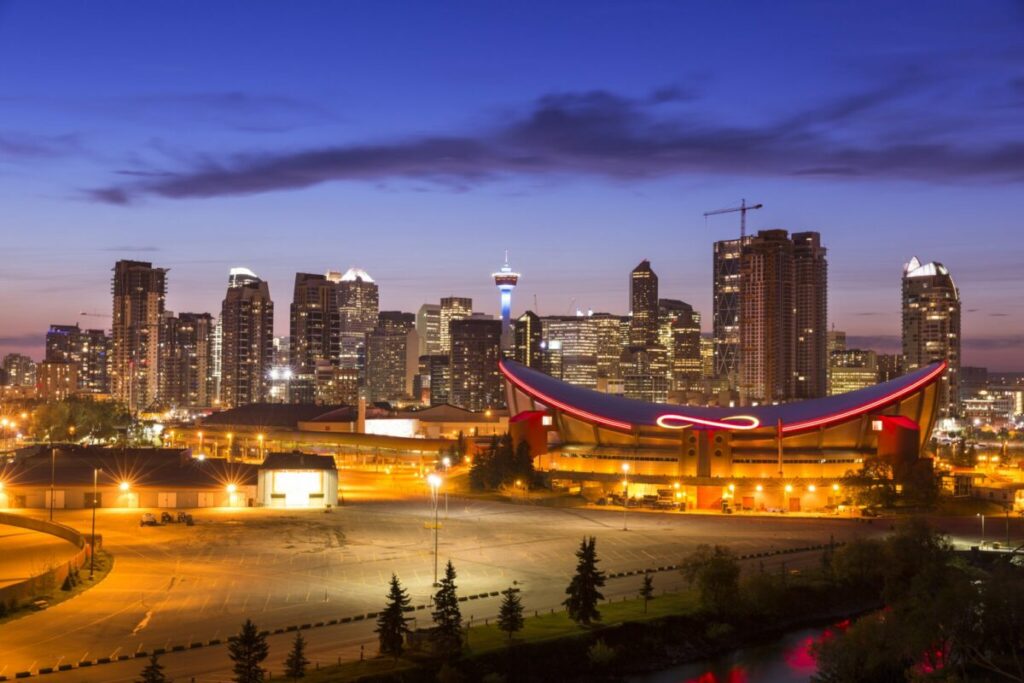 Pre-Arrival
Who to contact to secure housing and migration support: St. Vladimir's Church
email: ukrainesupport@stvlads.com.
Ukrainians arriving to Calgary and Area looking for initial support services can also fill out this form.
Jobs: St. Vladimir's has curated a list of helpful job search resources.
Arrival
Airport: Calgary International Airport (YYC)
First Touch-Point: There is welcome area set up at arrivals. Hours are 7am-11pm. Center for Newcomers and Immigration Services Calgary is launching a desk soon.
First 1-2 Weeks
Temporary Accommodations:
St. Vladimir's is coordinating housing with several social services and settlement agencies. Please email ukrainesupport@stvlads.com
Find more information here: Housing
Ukrainians arriving to Calgary and Area looking for initial support services can also fill out this form.
Sim Card: Provided
Social Services:
SIN card, health card, bank account, doctor, school, childcare/daycare, community, language, transportation, etc.
Social Support Network
Settlement
WELCOME/INFO PACKS:
Accommodations (longer term), Jobs, Childcare, Education, Language Support, etc.
Additional Information
Additional Guide Resource for Calgary and Edmonton (English only)