Profile
Total Population: ~1,519,000
% of Ukrainian Population: 10% of Ukrainians out of total population (fourth highest concentration in Canada)
Climate: Edmonton has a humid continental climate. The city is known for having cold winters. Its average daily temperatures range from a low of −10.4°C in January to a summer peak of 23°C in July. The average maximum is 27°C in July, and minimum of −14.8°C in January.
Language: Predominantly English.
Known For: Edmonton is the capital of the Province of Alberta, and the sixth largest city in Canada, just slightly smaller than Calgary. While the city is home to over 1 million people, the city has a very low population density, covering 684 square kilometers. This large land area provides the city with a large amount of green space, a major attraction of the city. More info.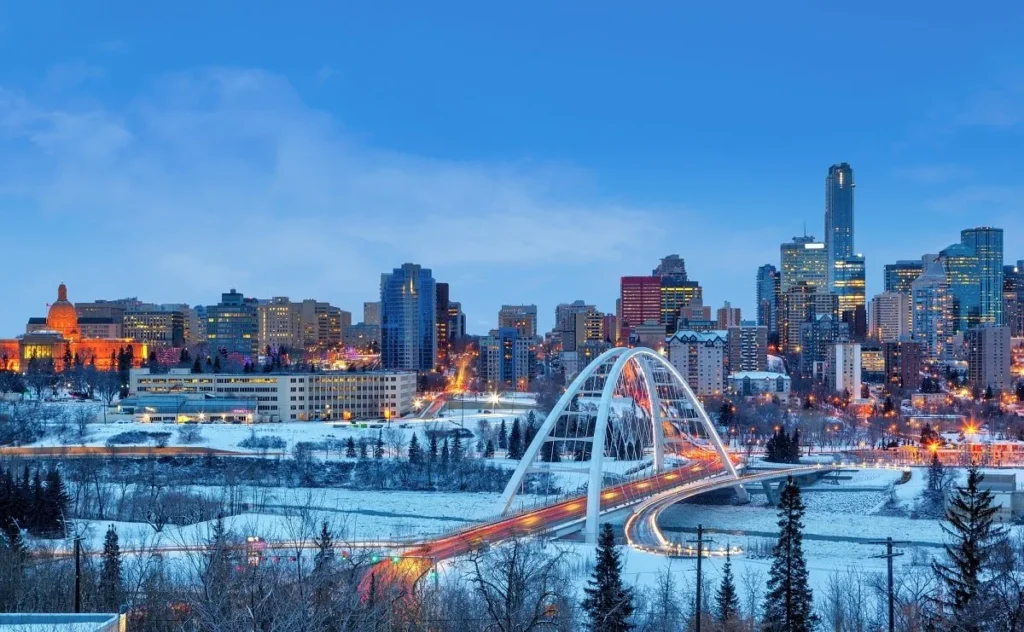 Pros: Edmonton has a strong technology sector that supports a diverse economy with the University of Alberta rapidly becoming a leader in artificial intelligence. Edmonton has the highest area of parkland. Edmonton's river valley is over 20 times the size of New York's central park. The northern lights can be seen in Edmonton from early evening onwards on some very active days. Edmonton is one of the most affordable of major Canadian housing markets in the country. Another perk is a higher average salary compared to the rest of the country. Edmontonians enjoy the highest average household income in Alberta and the most disposable income. Fuel prices are also the lowest in Alberta. Also, since many ethnicities have made Edmonton their home, there is great diversity in cuisines available. Edmonton's reputation of being one of Canada's premier education centers is supported by the three school boards and over ten post-secondary schools. Edmonton has many colleges, technical institutes and highly respected universities.
Cons: The weather in this northern city is extreme with excessive seasonal temperatures. Temperatures can reach as low as -40°C in the winter months. Thunderstorms and hailstorms are common occurrences. The crime rate is over 20% higher than Vancouver and over 40% higher than Calgary. Crimes of social disorder seem to be the biggest threat. "Pothole season" is a thing in Edmonton, so there is a lot of ongoing road construction.
Cost of Living: The average monthly cost for a single person in Edmonton is $1,230.79 before rent. (2022)
Apartment vacancy rate: 4%
Average cost of rent (bachelor): $1,134.40 (2022)
Average cost of rent (1 bdrm): $1,201.38 (2022)
Average cost of rent (2 bdrm): $1,638 (2022)
Public Transportation: Edmonton's public transport has one of the best bus networks in Canada. With 191 routes and 7456 bus stops, you can get anywhere in Edmonton by using the bus.
Arts & Culture: Edmonton enjoys over 40 family-friendly festivals held year-round. One of the more famous ones is the The Edmonton International Fringe Festival, an annual arts festival held every August. It is the oldest and largest fringe theatre festival in North America. Edmonton's vibrant culture and art scene mean that there is no shortage of things to enjoy. Edmonton has something for every taste, whether you enjoy rock concerts, orchestral music, ballets, live theatre or museum tours. The Independent called Edmonton Canada's "most exciting culinary city," saying that food in the Albertan capital is "increasingly inventive and experimental".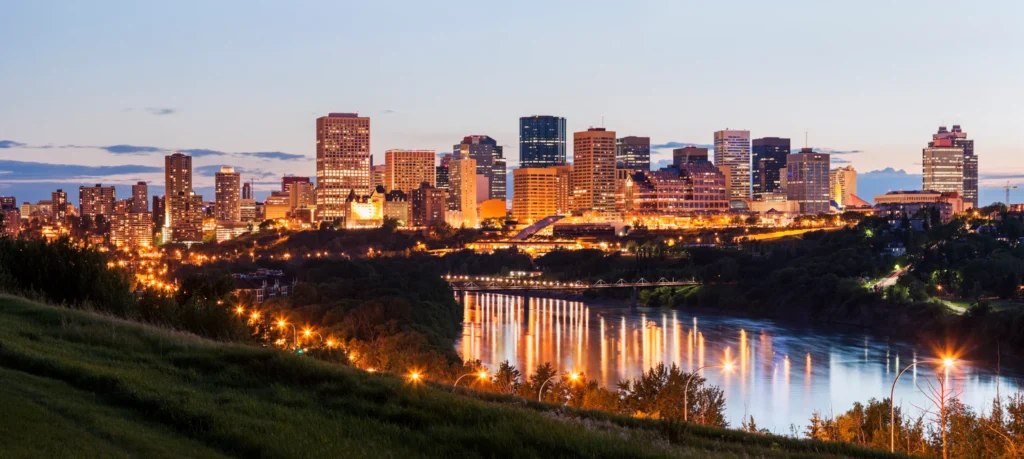 Pre-Arrival
Who to contact to secure housing and migration support: Ukrainian Canadian Social Services (Edmonton)
Jobs: Ukrainian Canadian Congress – Alberta Provincial Council
Arrival
Airport: Edmonton International Airport (YEG)
First Touch-Point:
The Ukrainian National Federation and Ukrainian Women Organization have set up a booth at the Edmonton International Airport to greet arriving Ukrainians and provide an information package. This is in addition to the Red Cross arrival services.
If you need emergency assistance, contact The Canadian Red Cross: 1-877-229-8523
First 1-2 Weeks
Temporary Accommodations: Ukrainian Canadian Congress – Alberta Provincial Council
Sim Card: Contact The Canadian Red Cross: 1-877-229-8523
Social Services:
SIN card, health card, bank account, doctor, school, childcare/daycare, community, language, transportation, etc.
Ukrainian Canadian Congress of Alberta – Settlement Services
Settlement
WELCOME/INFO PACKS:
Accommodations (longer term), Jobs, Childcare, Education, Language Support, etc.
Additional Information
Additional Guide Resource for Calgary and Edmonton (English only)